The transportation of gas, oil and water is one of the most critical aspects of our energy infrastructure. We hold our construction to the highest standard of integrity and quality. For over 10 years, we've installed hundreds of miles of pipeline and constructed processing plants, compressor stations and other facilities to the satisfaction of our customers with a sterling safety record.
We offer a variety of services for our clients' natural gas construction needs.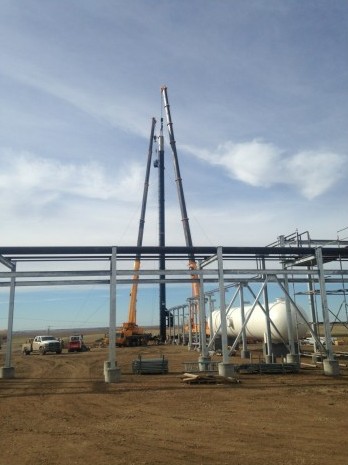 Our Facilities group is committed to responsible, dependable and safe construction practices. We specialize in facility construction services for compressor stations, processing plants, pump stations, meter stations, and other energy service facilities. Our state-of-the-art, turnkey construction solutions include:
Site clearing and pad work
Excavation and road building
Structural steel fabrication
Pipe infrastructure fabrication
Compressor installations
Dehydration and Separation installations
Shutdown and hot tie-ins
All concrete work involved
In-house sandblasting and painting
In-house hydrostatic testing
Demolition of existing facilities
Our reputation is built on the complete satisfaction of our customers. Construction of natural gas, oil and saltwater pipelines with uncompromising quality while bringing together highly skilled workers and first-rate materials is our specialty. Safety consciousness is unyielding and our operators consistently maintain OQ certifications. Our pipeline group includes the following:
ROW Clearing
Pipe Bending
Fabrication of launchers, receivers and blowdowns
Installation of sales meters
Specialization in plant tie-ins
Directional Drilling (Boring)
In-house hydrostatic testing
Pipeline rehabilitation
In-house sandblasting and painting
ROW Restoration
We provide fabrication of infrastructure components at each of our construction yards, allowing us a faster turn around time, moving production at a quick and efficient rate. While mainly focusing on new construction we also provide modifications and maintenance tailored to customers' needs. Our field management offers nearly three decades of experience, giving us the strategic advantage to provide our clients with the most knowledgeable work force possible.